Thank You!!! 4th Annual Door Knocking Food Drive Was A Great Success!
Posted by Young Lee on Monday, December 24, 2018 at 10:26 AM
By Young Lee / December 24, 2018
Comment
Thank You! Thank You! Thank You! The Young Lee Group with @Properties had our 4th Annual Door Knocking Food Drive and it was our most successful one yet. We were able to donate over 100 bags of food and other non perishable items to the Palatine Township Food Pantry.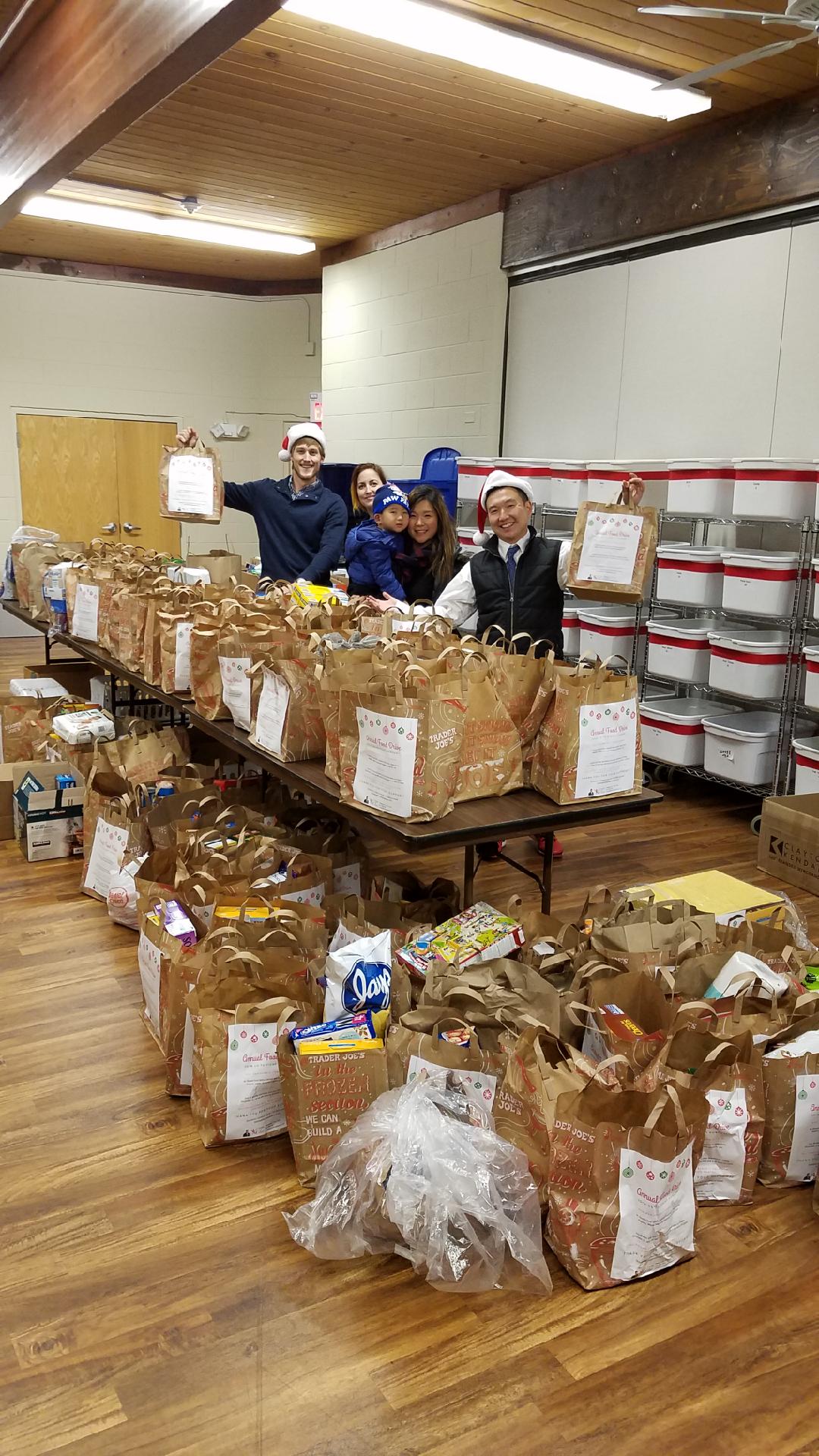 As 2018 comes to an end, the Young Lee Group at @Properties is so thankful to all our family, clients and friends that helped make this such a wonderful year. One the of favorite things we do as a team is our annual door knocking food drive. It gives us an opportunity to focus on others and give back to the community.
Preparing the Food Drive
As a team, we went out to the community and knocked on hundreds of doors over 4 days and countless hours to drop off our food drive bags (Big Shout Out to Trader Joe's for generously providing us bags!). Kristina, Jeff, and I knocked on doors and asked people to take a bag, fill it will non perishable food items and tolietries, and leave the bag on their doorstep. We told them we would come back to pick up all the donations and drop them off at a shelter or food pantry. This year, we choose to donate all food to the Palatine Township Food Pantry.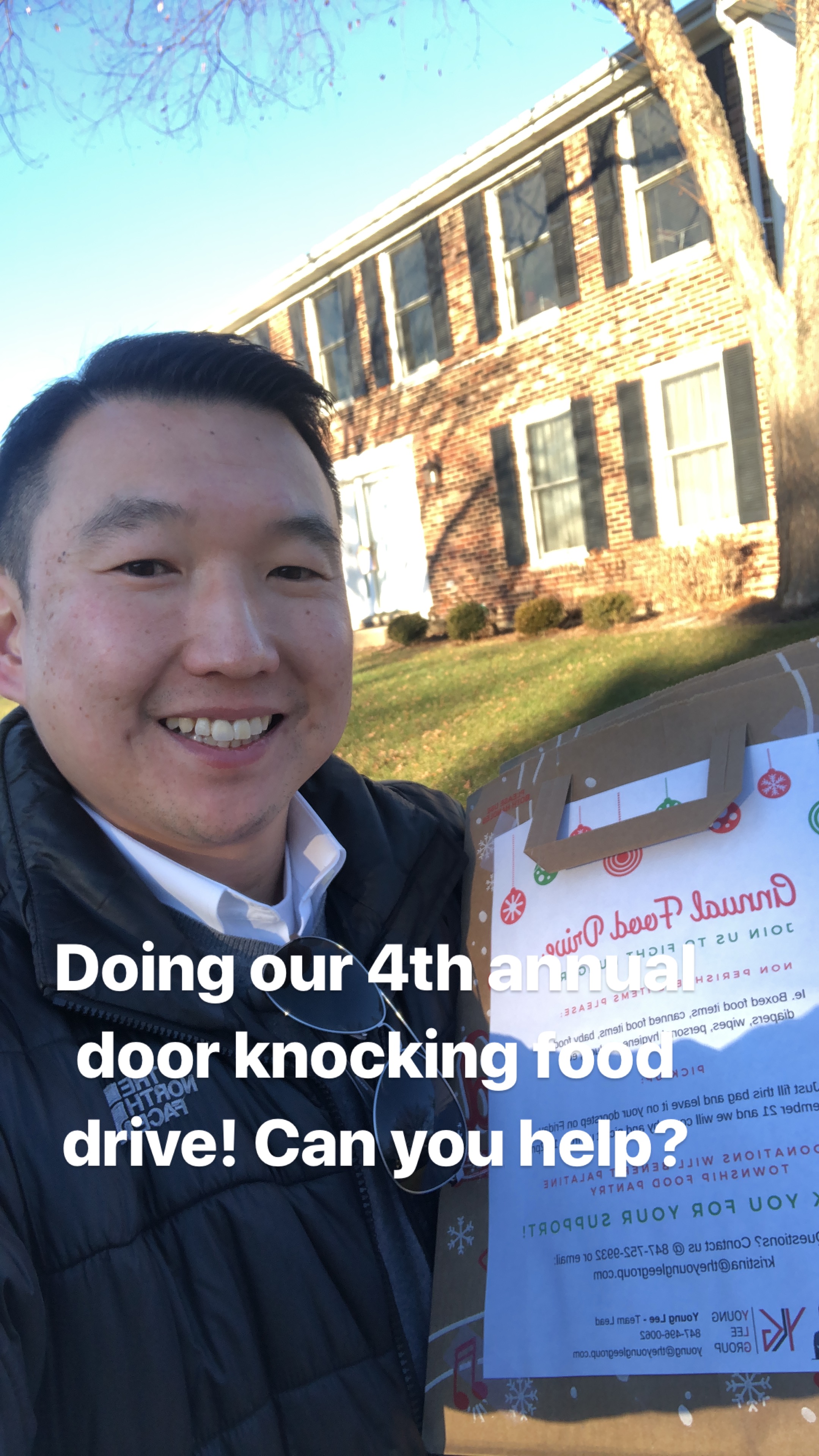 Here's a picture of Jeffrey and I after finishing the last of the homes. It was cold out there. :)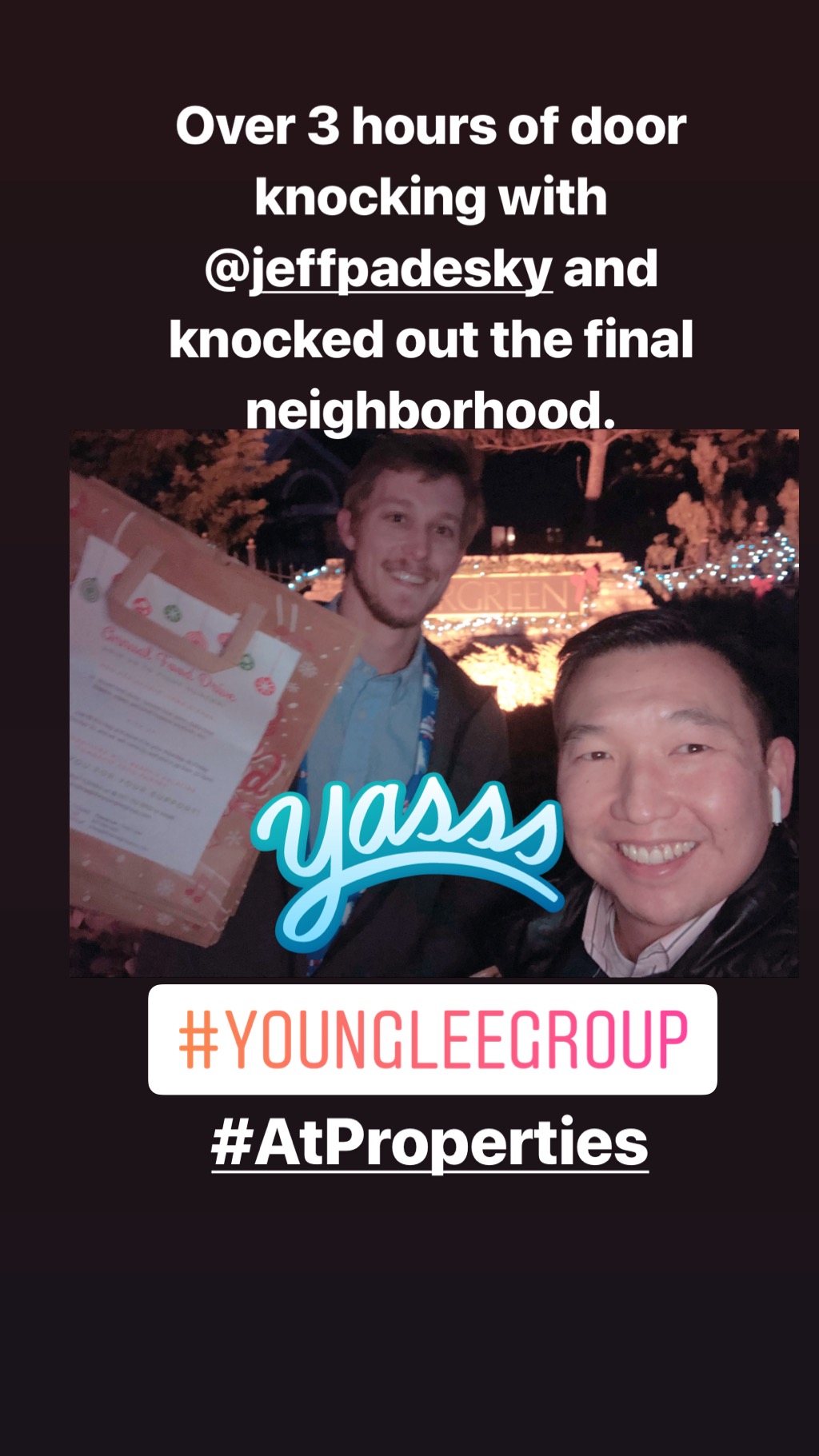 Picking Up All the Generous Donations

Once all the bags are dropped off, we let everyone know that we will be back to pick up the bags. We just asked for people to leave the bags on their door steps and we would come back and pick up the filled bags. Our team heads out and drives around the neighborhoods with our Santa hats, blarring Christmas music, and pick up all the donations. It is truly a team effort. It is so rewarding to see all the kind hearted homeowners participate each year.
Here is a picture of my youngest and our littlelest helper of the day!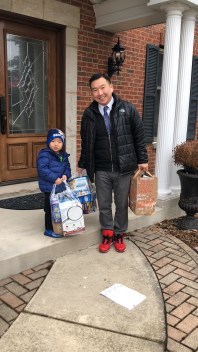 Delivering ALL the Donations
After all the bags and other donations have been picked up, the best part of the food drive is delivering the bags to the food shelter. This year was the best year of participation and we had over 100 bags of donations from the kind homeowners.
Here is a photo of all the bags we collected.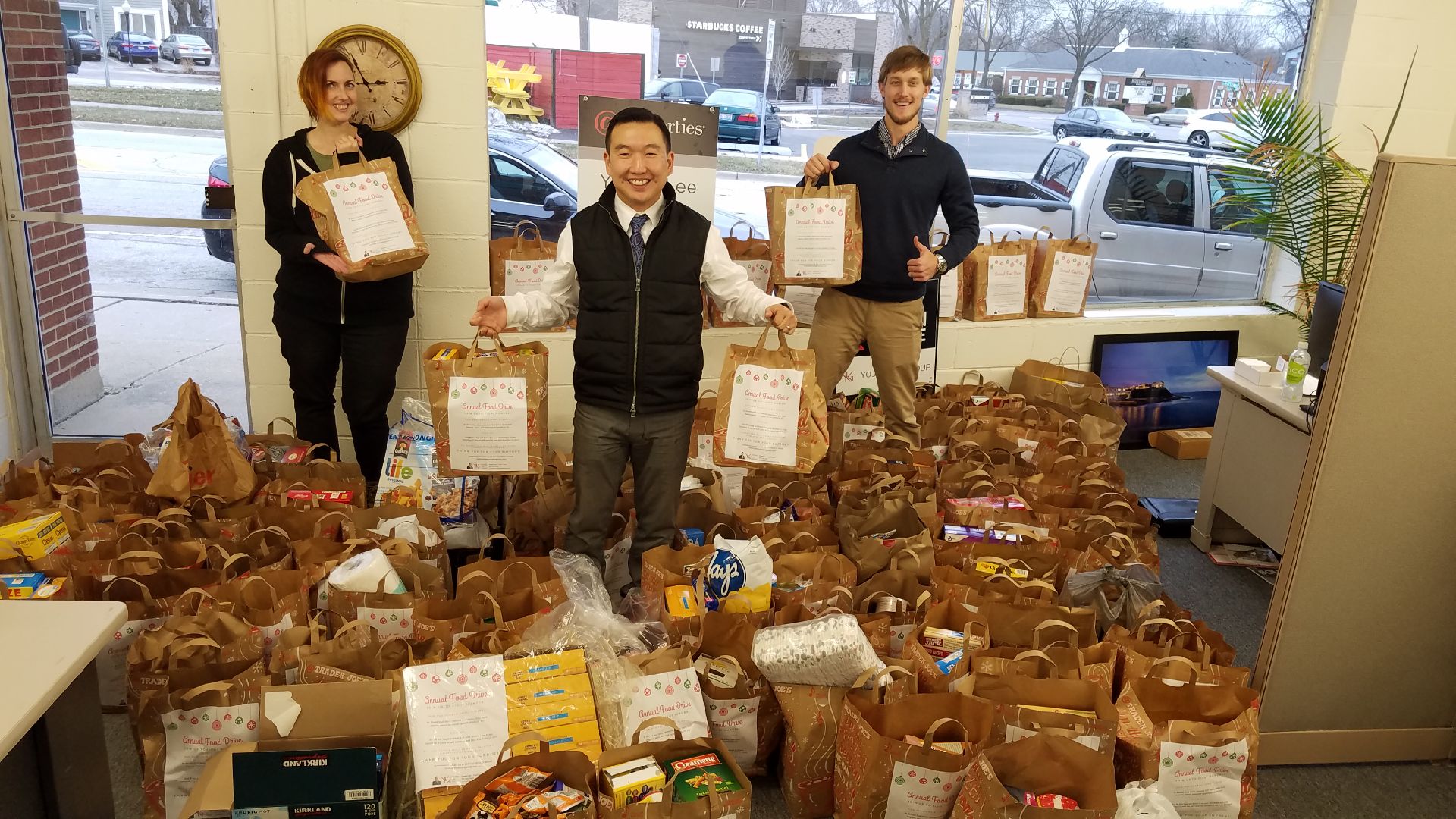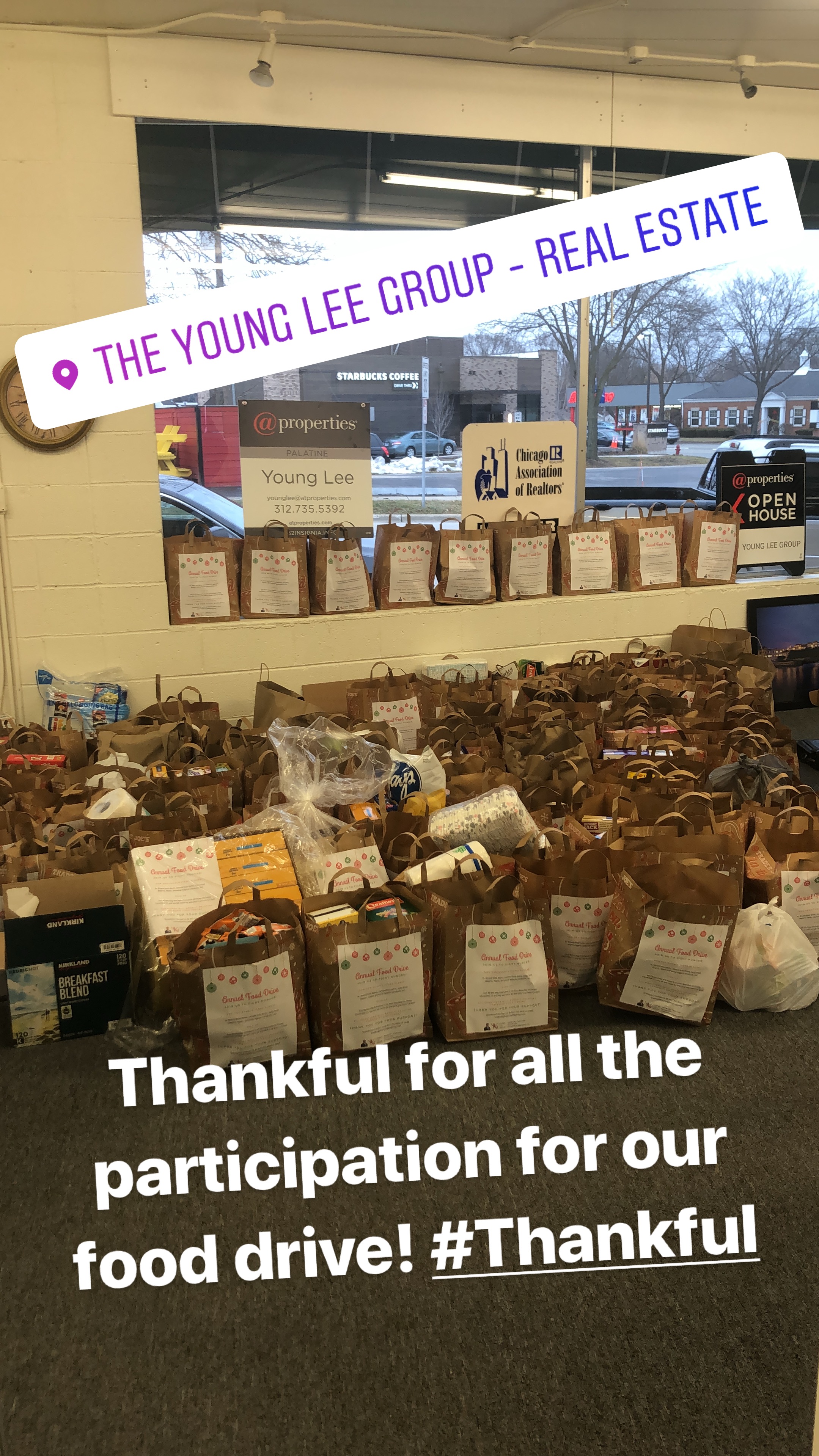 Of course, none of this is possible without the help and support of all the participants that generously give for our food drive. Special thanks to all those from the Highland Hills and Evergreen subdivisions, member of Harvest Community Church and the parents of Lincoln Prairie Elementary School for participating this year! Also, a big thank you to Jeff and Kris and our team for all the hardwork to make this happen. Hope we have an even better result next year and we hope to see you next year!